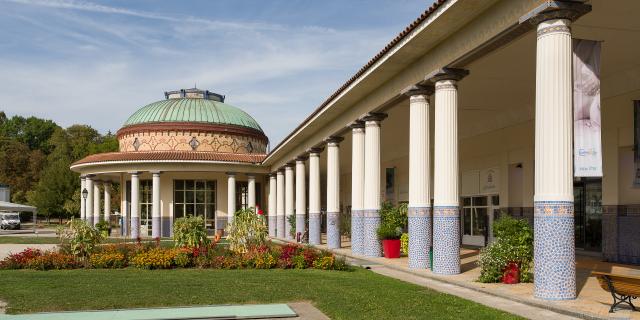 An irresistible romantic charm
Throughout history
Living with romance
And fresh water
Sighing at the altar
During your romantic stroll, stop by the Russian Orthodox Chapel. Located in the Thermal Park, it was built for Grand Duchess Wladimir of Russia in 1909. After taking refuge with other Russians after the October Revolution, she died in Contrexéville in 1920 and is buried in this chapel. Her third son, Grand Duke Boris Vladimirovich, is also buried beside her.


Did you know?
A bell weighing no less than 842 kg adorns the entrance to the Russian Orthodox Chapel. Given by Jean Elaguine, it gives an unusual air to this Chapel.
le_patrimoine_A_contrexEville-540p.mp4
Patrimoine à Contrexéville
Flirting with heritage
While the romantic trend dominates in Contrexéville, other artistic trends and architectural styles can be observed. Whether it is the neo-Byzantine style of the thermal baths, or the Art Deco style that characterizes the Casino, the city's heritage offers you a thousand and one ways to be seduced.
Going elsewhere
To find your happiness